Indonesia's Polarization on the Edges of Power, Secularism and Power
How does polarization contribute to democratic backsliding? There is no clear answer to this question, as the two concepts are complex and interconnected. However, some experts believe that polarization can contribute to democratic and economic backsliding by weakening institutions, eroding public trust, and exacerbating social and economic inequality. Additionally, polarization can lead to political instability, which can in turn pave the way for autocratic leaders to consolidate power. On the other hand, weak institutions cause democratic institutions deeper. Eventually, polarization and democratic backsliding are not only interconnected, but also cyclical. This is what has been happening in Indonesia in the last decade. Indonesia, a historically religious shaped country and the place where most Muslims live, has been experiencing a political polarization, thus experiencing a democratic backsliding. In her paper "Deepening Polarization and Democratic Decline in Indonesia" Eve Warburton asserted that, Indonesia's democratic period, which dates from the resignation of the authoritarian president Suharto in 1998, analysts have emphasized and often lamented the lack of ideological competition in Indonesian politics because of the country's party system, a certain ideological divide between Islamic parties in favor of a larger role for Islamic precepts in public life and pluralist parties that promote a multireligious Indonesian state" (Warburton, 2019).
As Warburton and some scholar such as Arugay and Slater (2018) alleged, yet political campaigns have usually been inclusive to gain support of different segments of Indonesian society, to reach the state's patronage resources (Warburton, 2019 & Slater and Arugay, 2018)
Since 2014, however, Indonesia has become more politically polarized. Three major elections have divided the country much than it has been in decades: the 2014 presidential election, the 2017 gubernatorial election in Jakarta, and the 2019 presidential election. Competition between President Joko Widodo (Jokowi) and his former opponent, Prabowo Subianto, ignited a previously latent political cleavage between Islamists and pluralists. There have been so many actions to contribute the political polarization such as ban of marches of opponents against the government, ban of child adaptation for non-Muslims and transformation of presidential elections to run of "who is more Muslim" (The Economist, 2019 & V-Dem Democratic Erosion Dataset).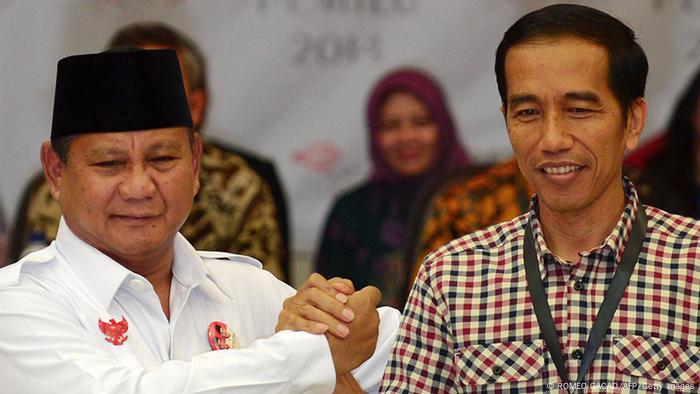 In 2014, Joko Widodo (known as Jokowi) and Prabowo Subianto raced for being the president of Indonesia. Jokowi was a former mayor of a small sized city and Prabowo is the son in law of Indonesia's most famous politician and soldier, Suharto. Prabowo represented conservative Islamist claims and discourses against Jokowi, who represent more liberal and secular ideas. In the end, Jokowi won the election. He had many proposals including 7 percent growth economically. After he won the 2014 election, Indonesian people experienced many events that contributed to country wide polarization until the 2019 presidential election, where Prabowo and Jokowi competed again. Before the 2014 Elections, Prabowo was the main "polarizer" that accused Jokowi's liberal and secular identity. At that time, Jokowi won the race for the presidency as a young and rising star embraced democratic, secular and liberal values. Since he was the first one outside of military and political elites, populist discourses had been uttered by Prabowo such as "Jokowi is not enough Muslim, and a hidden communist. Jokowi won the election as a new hope for Indonesia, an optimistic paragon for the Indonesian people and future.
However, Jokowi's attitude has changed dramatically. He has established strong direct relationships with army and clerics and tried to repress opposition (The Economist, "To win reelection Indonesia's president has betrayed his principles", 2019). He appeared first as a reformer for Indonesia that suffered a stable and chronic corruption. (Prabowo's father-in-law, Suharto was among the richest men throughout the world when he died.) He did well in early stages of his presidency, investing a lot in the infrastructure of the country, renowned healthcare system and building roads. He followed an interventionist and nationalist economic policy and resulted with a 5 percent growth. However, the Indonesian and international community have been disappointed with his acts of governance. First disappointment occurred when Ahok, Basuki Tjahajha Purnama, a popular governor of Jakarta who had been Jokowi's deputy, had been accused of insulting the Quran since his quotes from Quran had been falsely understood and he had been protested. He lost firstly local elections and was imprisoned. Jokowi was in a deathly silence through the whole events, including imprisonment. Jokowi also used violence to surpass opponents. Some marches of groups against Jokowi were blocked by police and some opposing leaders have been arrested. Some media figures and owners have faced past tax fraud investigations when they began to investigate Jokowi and his close team's practices and promulgated their corruption. "As the 2019 Election approached, Jokowi sought for a support from Islamists and included well-known Islamist figures in his core team, even in the cabinet. Right before the 2019 Election, he chose Ma'ruf Amin as his running mate. Mr. Ma'ruf was the head of Nahdlatul Ulama, a Muslim organization that boasts 50 million members, and the head of the country's main clerical council. He aspires to see sharia (Islamic law) enforced across Indonesia; he is in favor of banning homosexual acts and minority Muslim groups whose beliefs offend him." (The Economist,2019).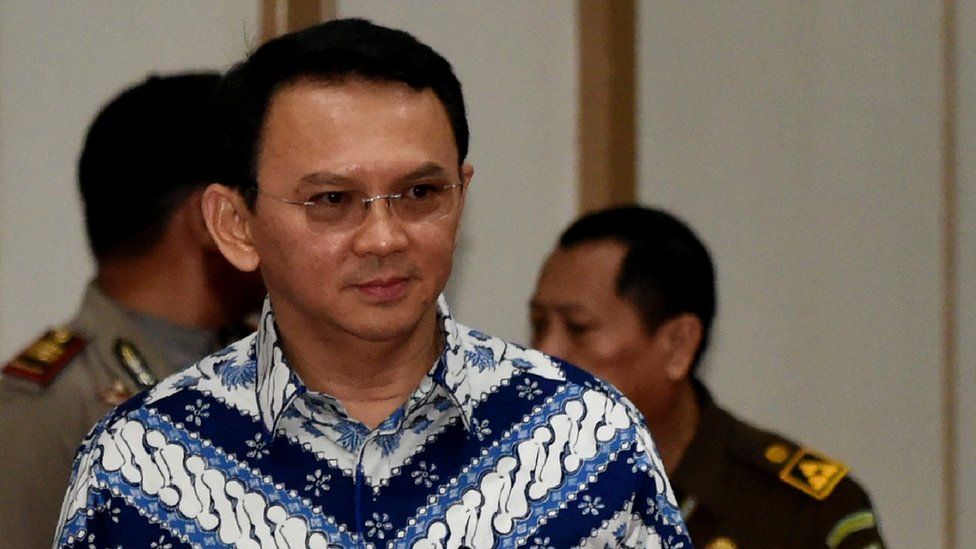 Lately, he has been proposing corporal punishment to homosexuals and probably was never a democrat. Maybe he pivoted just for the coming to power and using patronage. After 2019 Presidential Eclections Jokowi even appointed Prabowo as the Minister of Defence in his government. Like most of other cases such as Turkey, a country compressed between Islam and secular understandings of democracy, in Indonesian case, power revealed its limitations again.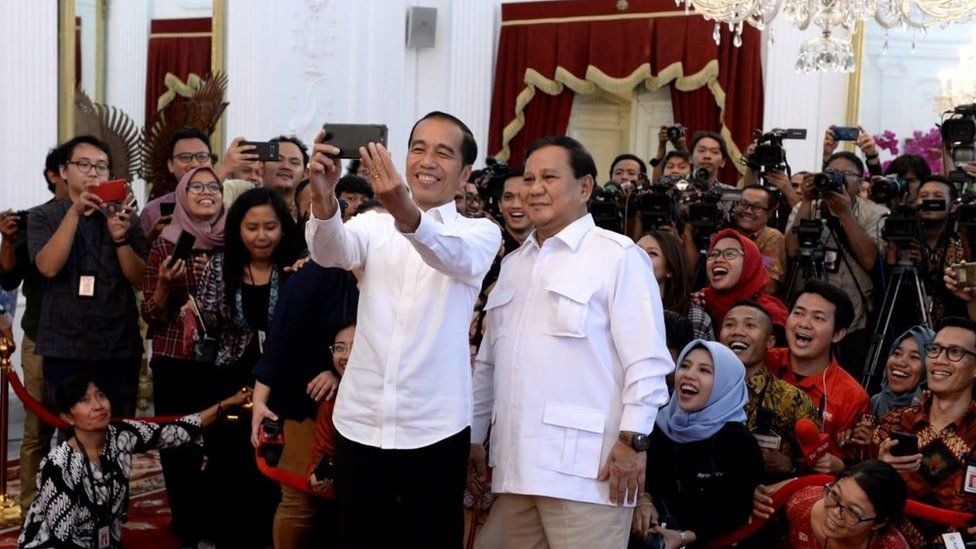 To sum up, Indonesian Democracy is suffering from a drastic polarization and the recent developments throughout the world have shown that; economic backsliding that is caused by after covid recession could enhance polarization, since populist leaders mostly embrace populist discriminative and polarized discourses not to lose support from the public in the time of economic downturns. Jokowi has already begun deteriorating institutions and rules of law in Indonesia; a begun to establish allyships with his opponents. Since then, opposition strategies against his polarizing politics could not become successful so far. Due to lack of a contemporary strong leadership and strong institutionalism, it is possible to be seen an increase of further democratic backsliding and polarization.
Slater, D., & Arugay, A. A. (2018). Polarizing figures: Executive power and institutional conflict in Asian democracies. American Behavioral Scientist, 62(1), 92-106.
Warburton, E. (2020). Deepening Polarization and Democratic Decline in Indonesia. Political Polarization in South and Southeast Asia: Old Division, New Dangers, eds. Thomas Carothers and Andrew O'Donohue, 25-40.
https://www.economist.com/briefing/2019/04/13/to-win-re-election-indonesias-president-has-betrayed-his-principles
https://www.economist.com/leaders/2019/04/11/jokowi-the-better-candidate-is-leading-in-indonesias-election
https:/www.economist.com/the-economist-explains/2016/11/24/indonesias-blasphemy-laws