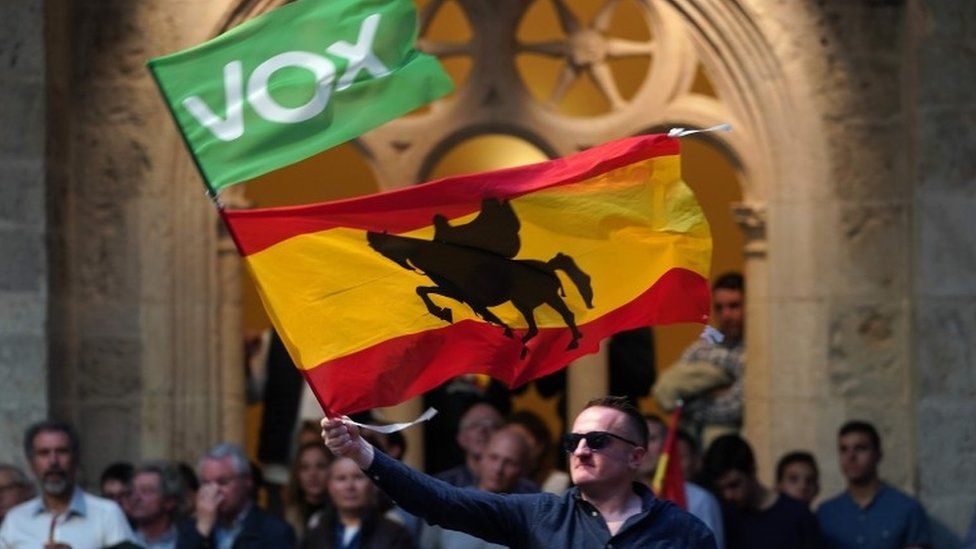 Vox has risen towards becoming Spain's third strongest party. As a result of its success, the government can no longer accurately toward being immune to the growth of Europe's nationalist extreme right. On the other hand, did not receive much backing when it was formed in 2013. It received barely 0.2 percent of the vote in the Spanish general elections in 2015 and 2016. Even if it is unknown how much of this movement may be ascribed to VOX's structural existence or other factors like the epidemic and uncontrolled immigration, there seems to be a minor uptick in unfavorable sentiments related to immigration. Yet, the consequence of VOX's development as a populist movement can be seen in Spain's growing cultural division, which obstructs sensible discourse on population and what to handle it.
In 2018, Vox's time in the political spotlight ended abruptly. The party received 11 percent of the vote in Andalucía (Spain's most populated region) in provincial elections that year. Vox now has 52 representatives of the Spanish Congress, three senators, four European Cabinet ministers, 55 regional parliamentarians, 526 local councilors, and five mayors. Vox has been a significant external backer of various municipal and regional administrations and serves as a "power broker."
Issues Regarding Immigrants
According to UNHCR, immigration has received favorable popular sentiment in Spain. The majority of the people does not see immigration as an issue, either in general or in their own lives. This might be explained by the fact that Spain is a country with a recent history of immigration. At least 6,000 migrants, including 1,500 kids, crossed the Moroccan-Spanish border into Ceuta, a Spanish territory on the North African coast, recently. Morocco keeps the border peaceful and under rigorous surveillance. Morocco, on the other hand, opted to worry Spain, apparently because Madrid had brought Brahim Ghali in for healthcare coverage. Ghali is the commander of the Revolutionary Front, a rebel organization in Morocco's seized Western Sahara. However, because immigration has been forced back towards the middle of the Spanish political discourse, the political ramifications for Spain would be lengthy. Sánchez has been declared unsuitable for office by Pablo Casado, the head of the largest opposition coalition, the center-right People's Party (PP) (Sanders, Berganza, Roberto, 2016). The far-right, anti-immigrant Vox party, which is presently polling third among Spanish voters, is particularly energized. The entrance of immigrants was dubbed an "invasion" by Vox MPs, who demanded the "permanent militarization of the border" and the construction of a wall. If any of this week's newcomers are granted refuge, Vox has threatened to withdraw its legislative backing for the Popular Party in the Spain-led regional administration of Andalusia. This would result in the region's administration collapsing, a quick election, and a potential boost for the extremist anti-immigrant Vox.
According to the Nation, territorial disputes between Catalan nationalists who subsequently became successionists and the Spanish state resulted in an illegitimate referendum and premature proclamation of autonomy (2019). Vox played its cards well by supporting the Catalan authorities' lawsuit. The party positioned itself as the most dependable political entity fighting for Spanish national sovereignty. For that reason, the disputes in Ceuta boosted Spain's radical populism tendencies.
The radical right in Spain has just recently begun publicly criticizing immigrants. Even now, its most blatant types of terrorism are focused at domestic targets, including pro-independence groups in Catalonia and the Basque Country. Furthermore, the Spanish democracy is still in its development. From 1939 until 1975, the country was ruled by a right-wing fascist dictatorship, and the country's democratic transition was mediated between the opposing party and Francisco Franco's administration, with key players retaining wealth and influence (Sanders, Berganza, Roberto, 2016). In reality, the PP, Spain's biggest conservative party, and its precursor, Alianza Popular, have both been created by Manuel Fraga, one of Franco's most powerful ministers.
Vox voters are essentially representative of the 'average' European nationalist extreme right-wing supporter (Sanders, Berganza, Roberto, 2016). Flag-waving, eurosceptic, anti-immigration reactionaries are the norm. They are overwhelmingly right-wing, centered on individuals who sympathize with Spain and believe it is under assault. Vox sympathizers are far more likely than followers of other parties to reject Spain's EU membership and to hate foreigners (Sanders, Berganza, Roberto, 2016). Vox's chairman climbed the ranks of the PP in his homeland of Basque Country, which has long had a fierce pro-independence organization that has attacked conservative leaders. After the party's breakthrough, however, there has been a shift in the trend, with a minor strengthening of popular attitude in Spain toward immigration. The public legitimacy of democratic institutions' agendas may be a contributing element, making it more appropriate to voice formerly suppressed unfavorable sentiments. The information supplied does not allow us to identify how much of this tightening of sentiments is due to VOX's statement and how much is due to changing circumstances.
The growing acceptance of the nationalist right has coincided with the downfall of the populist left. Unidas Podemos, a left-wing populist coalition which the majority group arose during the eurozone crisis, has seen its membership collapse (Sanders, Berganza, Roberto, 2016). However, VOX is having a polarizing impact, generating a widening divide in immigration opinions based on ideological beliefs. This polarization 'freezes' beliefs by assigning them to beliefs and perverting debates with political sympathies labels. This polarization is dangerous because it prevents a peaceful and sensible discussion of immigration and governmental policy aimed at addressing it.
To sum up, VOX has a destabilizing effect, causing a growing division in immigration sentiments due to ideological disparities. By attributing views to ideas and distorting conversations with political sympathy labels. Rising polarization has been considered to be detrimental for democratic governance. This rise makes citizens less likely to feel familiar with their in-group even if the leader is autocratic or even supports democratic erosion. Reducing the biases generated by right-wing leaders in Spain can be influential.
References:
https://www.thenation.com/article/archive/spain-vox-radical-right-populism-catalonia/
https://www.unhcr.org/56bb369c9.pdf
https://www.bbc.com/news/world-europe-46422036
https://www.theguardian.com/world/2022/mar/10/spain-far-right-vox-regional-government-castilla-y-leon-peoples-party-deal
https://www.realinstitutoelcano.org/en/analyses/spanish-public-opinion-on-immigration-and-the-effect-of-vox/
Sanders, Karen & Berganza, Rosa & De Miguel Pascual, Roberto. (2016). Spain: Populism From the Far Right to the Emergence of Podemos. 10.4324/9781315623016-28.