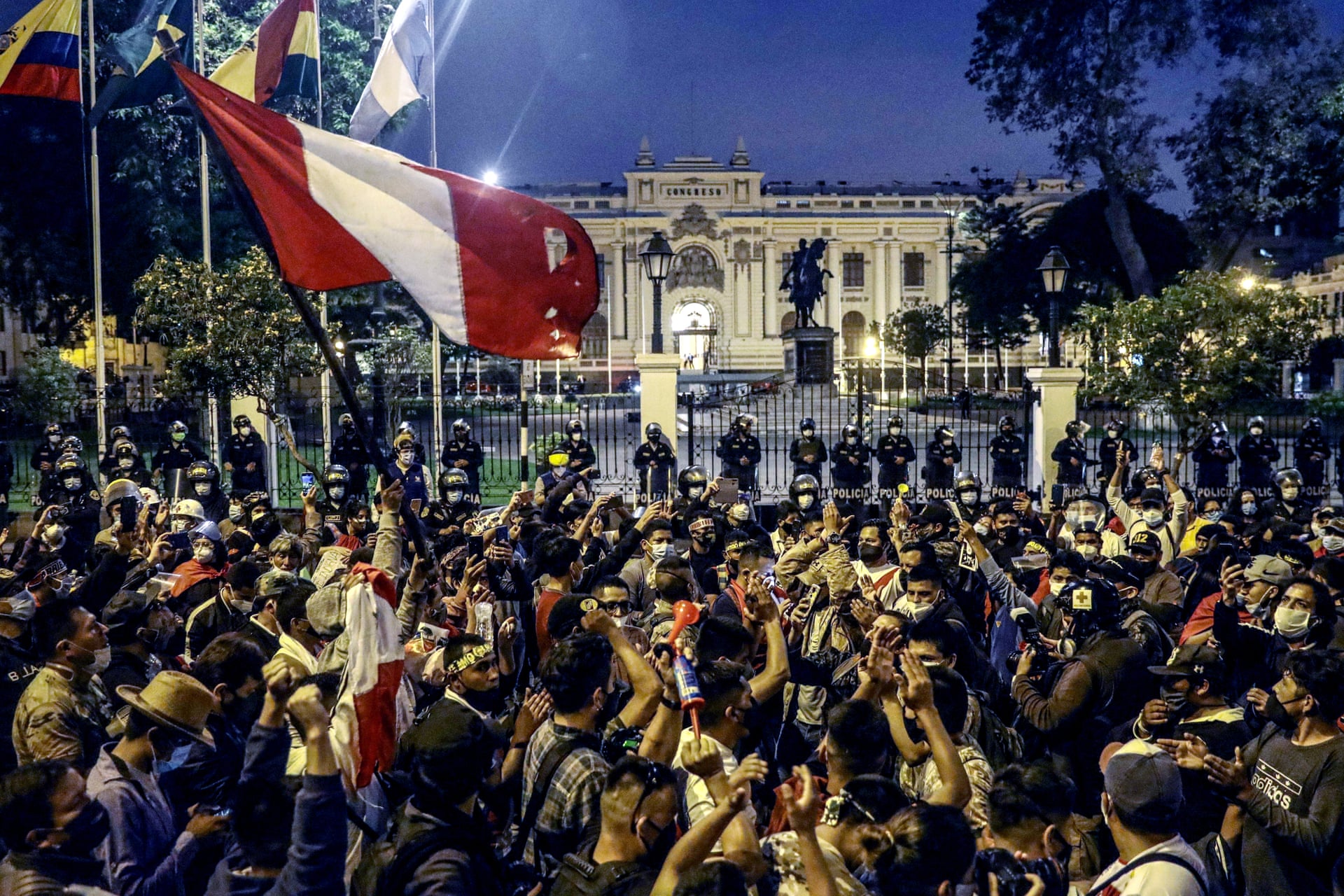 On Monday, November 9th, Peruvian congress voted to impeach President Martín Vizcarra and remove him from office. Congress accused Vizcarra of accepting bribes from companies during his time as governor of Moquegua. The impeachable charges brought against him, however, were simply that he was "morally unfit," a vaguely worded charge which students at the Universidad del Pacífico in Lima believe congress overuses in order to oust leaders they disfavor. Following the ousting of Vizcarra, the speaker of congress, Emmanuel Merino, was immediately sworn in as interim president, despite the glaring conflict of interest. This sparked civil unrest, largely led by students and young people, and within five days, Merino resigned, and congress selected Francisco Sagasti, one of the small minority in congress who voted against Vizcarra's impeachment, to fill the presidential seat until elections next April. 
In the midst of the COVID-19 pandemic, Peru is facing an immense economic crisis; its economy dropped by 40% in April during stringent lockdowns. Political power grabs and instability are hardly the leadership the country needs in this time. However, while the events which have unfolded in Peru signify democratic erosion, they also signify an immense win for democracy in the face of that erosion. 
The impeachment of a popular president by an unpopular legislature was a political move in line with what Bermeo terms a "promissory coup,"1 through which the removal of a leader is framed as protective of democracy. Further, with presidential elections only five months away at the time of Vizcarra's impeachment, the congress was able to appoint their leader, Merino, to the presidency, while promising that he would only serve as an interim president. While congress attempted to use technically legal avenues, civilians of Peru were outraged, and took to the streets against what they named a coup. 
Youth-led protests broke out, and were met with police violence and suppression. Police fired teargas at protesters en masse, deployed plainclothes officers, and two young men in their early twenties were killed. Civil society is an important element of democracy. Especially when the state uses loopholes which override the people's desires, it is essential that folks have the right to expression,2 in this case, to express overwhelming disapproval of Merino and the abuse of the power to impeach. That freedom of expression is one of Dahl's eight requirements for democracy calls into question if police forces may be anti-democratic institutions.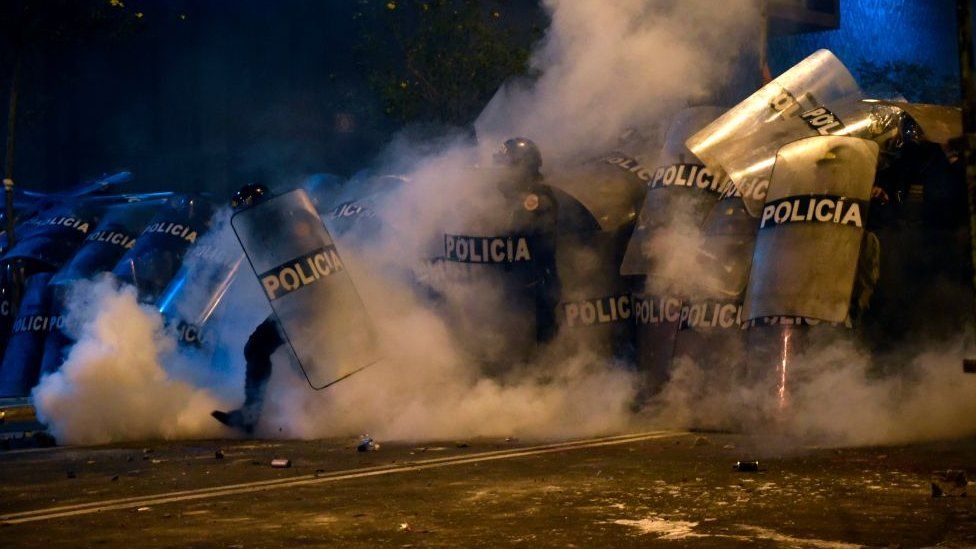 The student account of police brutality and excessive force in Lima and other cities in Peru align in several ways with actions by police forces in the United States during Black Lives Matter protests this summer and fall. Plainclothes police officers also made appearances at nonviolent protests, a surveillance tactic which can result in future consequences for protesters who are observed and recorded by police. Teargas and rubber bullets were deployed upon protesters. Still, in both countries, the news coverage seemed skewed against the protesters, highlighting violence and property damage, and glossing over the role of the police. One student speaker in Lima, Francesca, said, "People were being bombed with teargas, and you turn on the news and see, "Look at this ATM. it's been broken."" This rhetoric around violent protesters and "rioters," may not be purposefully anti-democratic, and yet, without paying adequate attention to the validity of civil unrest as a form of political expression, it serves democratic backsliding by justifying the suppression of protests. 
Still, the protests in Peru worked. Twelve of Merino's new cabinet members resigned in response to the brutal police response, and within five  days, Merino himself announced his resignation. In hearing the student organizers and protesters in Lima speak, it became clear that the protests were organized in a spirit of solidarity, with, for example, a large group chat of over two hundred people keeping tabs of one another and updating each other on police movement, areas in which violence had broken out, and providing aid to one another. This immense activation of civil society was driven not by policy preferences, but in defense of Peruvian democracy. To Peruvian citizens, whether they liked Vizcarra or not, they saw him as a legitimate ruler. In this sense, civilians were united, and successful in rising up against democratic erosion. 
This win for democracy in Peru holds a lesson for Americans. As political polarization increases, and mutual toleration decreases, Americans increasingly view those with the opposite political preferences to be existentially threatening to democracy or life as we know it. As a result, corporate and political elites continue to reap the benefits of systemic injustices, while everyday Americans turn against one another instead of unifying against exploitation and corruption.

Bermeo, Nancy. "On Democratic Backsliding." Journal of Democracy 27, no. 1
     (2016): 5-19. https://doi.org/10.1353/jod.2016.0012.
Dahl, Robert. "Democratization and Public Opposition." In Polyarchy, 1-16. 1972. PDF.